Our landscape can be so healing
Discover the fascinating cultural landscape of the Lesach Valley: calming atmosphere, lively nature, pure relaxation. Stress relief, positive emotions, refreshing senses. Welcome to a world of well-being, welcome to the healing landscape of the Lesach Valley.
Immerse yourself in the diverse world of the Lesachtal alpine pastures, which invite you to exciting hikes at different altitudes in the mild stimulating climate. Leave everyday life behind, feel the awakening nature, discover the colorful blooming of the alpine flowers and listen to the soothing silence and the gentle murmur of the mountain waters. Switching off, coming to rest and mindfully discovering the beauty around you - all this not only has a particularly relaxing effect, but is also scientifically proven to be beneficial to health. Try it out for yourself and treat yourself to some time out in Lesachtal.
Discover the world of Lesachtal wood, which was not only used in Venetian gondolas and in high-quality violins, but also has a very special quality. Let yourself be enchanted by the positive and health-promoting effects of a visit to the forest, while the fragrant smell of wood has a pleasant and calming effect and releases numerous natural ingredients such as essential oils and terpenes. Enjoy scientifically proven benefits such as improved sleep quality, blood pressure and pulse reduction, as well as anti-inflammatory and pleasure-enhancing properties that allow you to noticeably shift from tension to relaxation.
For your health I recommend the
four specialists: Dr. Alpine Pasture, Dr. Forest, Dr. Meadow and Dr. Water
- Dr. Georg Lexer, Surgeon -
Scientific research has shown that the environment and especially the meadows in the Lesachtal region are free of pesticide residues. The meadows, which extend into the alpine regions, are rich in a variety of wild herbs, wild berries and wild vegetables and contain an abundance of minerals, trace elements, vitamins and antioxidants. They also have high levels of bitter compounds. Dr. Wiese lists some positive effects of these bitter substances such as appetite-stimulating and digestive properties.
When hiking in the Lesach Valley, you can always hear a stream rushing and a small body of water splashing. Here you should not give it a wide berth, but always stay near the water, especially at a waterfall. There is a particularly high ion density here, which has a positive influence on the vegetative nervous system. (Examination Univ. Prof. Dr. Maximilian Moser, Inst. Human Research, Med. Uni Graz). Walking along the water - along the Gail and its side streams and waterfalls brings positive effects: cool and pleasant air movement and clear air to breathe freely.
Experience now the healing landscape in Lesachtal
Are you interested in the healing landscape of the Lesach Valley? Why not get to know our hiking region right away? With our suitable offers you can even benefit from numerous price advantages and services. Inquire right here and book your dream vacation in Lesach Valley!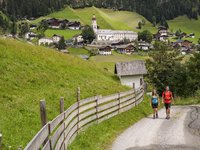 km2 Hiking area in the Lesach Valley