Hiking can be so many things
Far away from the crowds, you can hike the Carnic Alps on leisurely loop trails, challenging summit hikes, wonderful multi-day tours, or lofty climbing routes for beginners and pros. Happiness has many faces here: whether on the 2,780m Hohe Warte, the highest mountain in the Carnic Alps, or on the sun terrace of one of the ten managed huts in the area. Discover your happy place at Wanderniki!
"There's no other place where hiking is as connected to life as here."

As part of our weekly guided hikes, we will take you along with us and show you the most beautiful places in the hiking paradise of Lesachtal.
The highlight? The weekly Wanderniki hike takes you to the Obergailer Alm and towards the lake of the same name with its floating picnic table. Taste the delicious traditional "Frigga" egg dish with us and let your gaze wander into the seemingly endless expanse of the Lienz mountains while you listen to Nikolaus (a.k.a. "Wanderniki") play the flugelhorn.
You're in good hands: As the only certified hiking hotel in Lesachtal, we offer everything a hiker's heart desires.
Heated shoe drying room
Hiking boot washing area
Hiking info centre
Hiking tour folder
Equipment rental (backpack, poles, and more)
Personal recommendations and insider tips as well as help with tour planning
Enjoy life and stay awhile in the mountaineering village
Where can you enjoy a more genuine hiking holiday than the mountaineering village of Lesachtal? We, too, have committed ourselves to sustainable Alpine tourism and place particular value on originality, culture, and tradition. Experience the most natural valley in Europe – true to the mountaineering village philosophy: respectful interactions, enjoyment at the highest level, independent movement, adventure without commotion, and liveliness without noise.
Stop at one of the managed huts with special Lesachtal mountain hut cuisine and experience Lesachtal hospitality first-hand:
Wolayersee huts at Wolaysee lake
Steineckenalm mountain hut
Lackenalm mountain hut
Wieseralm mountain hut
Hochweißsteinhaus mountain hut
Oberrasteralm mountain hut
Porzehütte mountain hut
Filmoorhütte mountain hut
Obstanserseehütte mountain hut
Connyalm mountain hut
Untere Valentinalm mountain hut
We would be happy to provide you with further information and reveal our insider tips and favourite places.
kilometres of hiking trails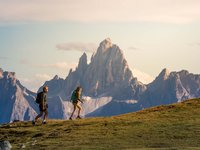 tours directly from the hotel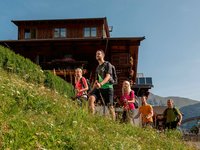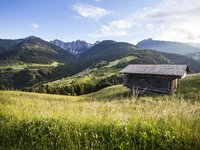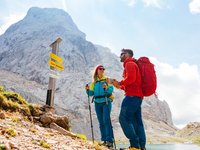 Our top 10 hikes in Lesachtal